Life On Board
Your time on an Ece Yachting Cruise should be unforgettable and for all the right reasons, we aim to give you the relevant information that you will need whilst onboard, Firstly you will be introduced to your captain and crew. There will be a welcome cocktail and all information will be given for your safety also all details of your time on board whilst sailing in Turkey. The Captain will also share with you all relevant details about your journey.
Each vessel is different and you will receive information on the electricity availability times for your boat and information on charging your phones and cameras etc.

Your first night will be spent either in the harbour where you embark or at the first bay on your itinerary. When you wake up on the first morning of your cruise you will start your day with a Traditional Turkish breakfast and get to know other passengers that are onboard with you.
As you continue on your journey you will stop at different bays, for a swim and you will be able to bask in the warmth of the sun on deck. Whilst sailing please be aware that the wind can be deceiving and many people find themselves with sunburn, we recommend you use an appropriate sunscreen and protect yourself accordingly.

Anyone wishing to partake in other sports such as fishing, paragliding or water sports, please let the crew or your captain know and they will be more than happy to organise for you if possible.

At some of the bays and harbours, there will be the opportunity to join short excursions, the captain will again give you all the details of these and the choice will be yours, this is a great way to explore this amazing land whilst sailing the seas of the Mediterranean.

Lunch and Evening meals are also a great time to relax and socialise, any special dietary requirements should be made known to us before the commencement of the cruise. Whilst watching the most beautiful sunsets you can enjoy your evening meal or BBQ with a cocktail.

You will find that during your Cruise, people spend most of their time sipping drinks and relaxing on deck, whilst sometimes water-skiing or scuba diving and fishing plus walks ashore once the anchor has been dropped.
General items you will need whilst sailing in Turkey.
A camera

Swim-wear.
Suitable soft soled shoes if you are not comfortable with bare feet, no normal daily use footwear is allowed to be worn onboard.

Suitable sturdy shoes for walking on land.

Beach towels, lots of sun cream, and a hat.

Casual clothes and something with long sleeves as there can sometimes be a chill in the air in the evening.

Finally, if you want to sleep on deck, under the stars, you can take your blankets and pillows.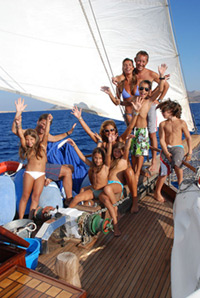 Safety Rules Must Be Adhered To At All Times Whilst On Board
We know you might like to jump off the side of the boat. However, please wait for the boat's engines to stop.


Do not use to much water and electricity as there is a limited supply on board.


There is no smoking inside, You can smoke on deck but do not throw the cigarette ends into the sea.




The wind can easily blow your things away, so please take care.




No throwing toilet paper or anything else into the toilet, that may cause a blockage. Use the bin which is provided.




The captain can change the original route at any time for the safety of the passengers and the crew (due to

unforeseen

dangerous sea conditions or damage to the vessel).

If you are away from the boat tell a crew member and your friends when you will return. If the captain asks you to be back at a specific time, please return.




Keep watch over your children at all times.

The boat's dinghy is for emergencies only or taking you to shore.




No running on the deck, as the floors can become wet and slippery, please be careful at all times.

Also be careful of any/all equipment on the boat whilst you are moving around.




When you leave the boat please always check you have not left any of your personal items behind.