YACHT BUILDING

Gulets, Sailing & Motor Yachts,

At Ece Yachting we have been extensively involved in every aspect of boat building, with years of experience in working with some of the best craftsmen in the industry we are very proud of all of the vessels we have been fortunate to of had a hand in and now these same vessels are sailing in Turkey, a glorious site to see.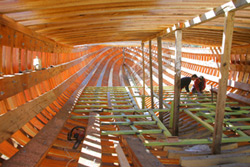 Wooden Yacht Production
Turkish leisure yachts began mass production in the 1960's. This classic wooden boat is handcrafted using traditional methods and also now using modern technology. The traditional gulets that we see made today have all the comforts built into them of a five star hotel. Generally the materials used today in the making of boats is metal and wood, creating various designs. The boats handcrafted in Bodrum are the envy of many as this shipyard has the number 1 reputation in Turkey for its handmade gulets, closely followed by Marmaris, Bozburun, Fethiye, Antalya and Istanbul.
Wooden Boat Manufacturing
Wooden boat manufacturing is an age old craft and the gulets of today are generally made from pine, oak, mulberry and chestnut alongside imported woods such as teak and mahogany. Boats produced and documented in Turkey are built to international standards. The latest techniques are used.
Boat Charters and Cabin Rentals in recent years have rapidly grown, therefore increasing production in boat building.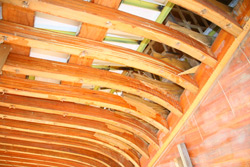 If you want to build a wooden yacht?
Firstly choose the boat that best suits your purpose. The first step would be the appropriate tree selection, according to boat size and characteristics, it can take anywhere between 10 to 24 months to build.

Production techniques are implemented and every step is carefully inspected over and over again. Boats from the beginning to the end of production are built to certain rules and specific standards. Tree selection, implementation, machine motor systems, electronic circuits, sailing equipment, furniture and other components are all carefully planned and selected. With the high costs involved in this process, planning is essential. This is why boat manufacturing should always be done with an experienced company. We are confident in this regard, come and talk to us and we will be able to go through every detail with you for the boat of your dreams.
Yachts for sale